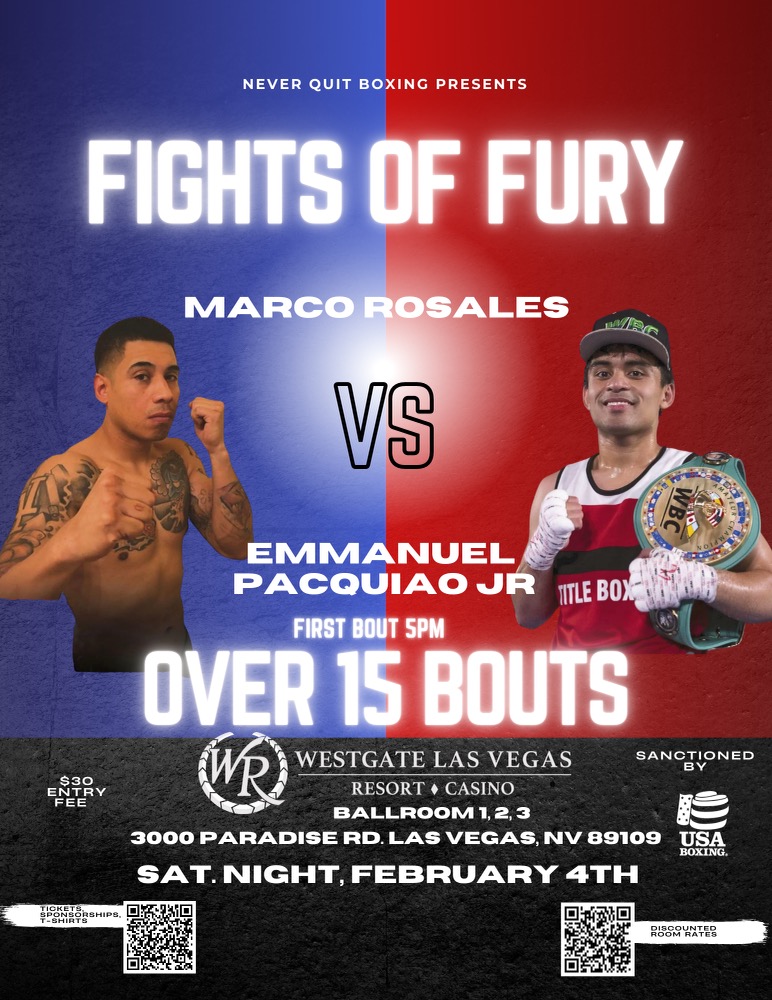 Vegas Stronger is partnering with The Manny Pacquiao Foundation to host the Never Quit Boxing's eighth annual "Fights of Fury" amateur boxing event. Taking place on Saturday, February 4th at 5pm at the Westgate Las Vegas Resort and Casino, located at 3000 Paradise Rd, Las Vegas, NV 89109. Fights of Fury tickets are $30 per person.
There will be more than 15 boxing matches featuring amateur boxers such as Emmanuel Pacquiao Jr. At 21 yrs old, Pacquiao Jr. began his amateur boxing career. At first, this career path was discouraged by his legendary father, but now the young fighter is thriving and growing under the tutelage that groomed his championship-caliber dad.
Vegas Stronger and the Manny Pacquiao Foundation are two nonprofit organizations that combine a unique out-of-the-box approach to combat addiction through athletics, education, and counseling regardless of race, socio-economic status, or housing situation.
The Manny Pacquiao Foundation was built from Manny's commitment to giving back and fighting for those less fortunate. Our purpose is to give communities a fighting chance, empower those less fortunate, and inspire hope around the world. https://pacquiaofoundation.org/

Vegas Stronger's mission is to reduce homelessness in our city by treating its root causes – substance abuse disorders and mental illness. Through our diverse staff, we educate the public on best practices in addressing our homeless crisis and utilize our thirteen strategies for treatment to free our city's most underserved citizens from addiction and mental illness. https://vegasstronger.org/

Contact: Nick Gambino (Manny Pacquiao Foundation) 815-715-2010
Dave Marlon (Vegas Stronger) 702-234-1356
Vegas Stronger / Never Quit Boxing Gym
916 N Main St, Las Vegas, NV 89101
702-202-6647