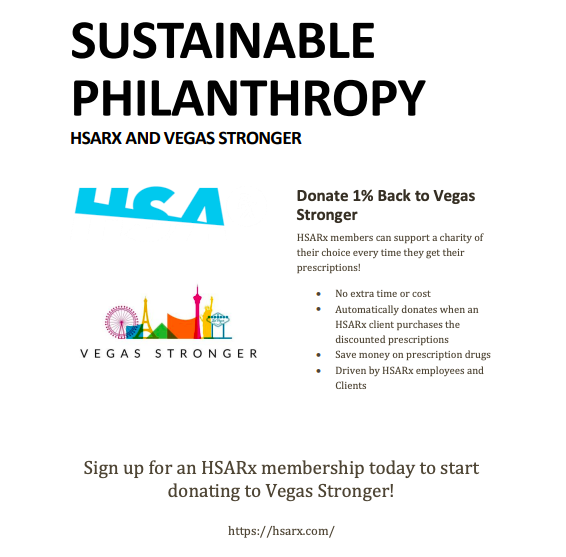 HSARx, founded in 2021, decided early to Pledge 1% of all profits to local charities not only in Las Vegas, where the company is based, but nationwide. This pledge was driven by founder and CEO Dennis Sponer, who wanted to support Vegas Stronger™, a charity which provides solutions for homelessness in Las Vegas by treating substance-abuse disorders and mental illness.
But unlike other companies, HSARx didn't stop at founder Dennis Sponer's commitment to Pledge 1%. HSARx is now developing a new philanthropic revenue sharing stream that is driven by the employees and clients themselves. With HSARx's unique profit sharing on prescription savings, 10% of its gross margin can go to a charity we are partnered with, automatically donating when a client associated with that charity purchases their discounted drugs. HSARx is uniquely positioned to support local communities and charitable causes this way – easy, automatically, and at no extra time or cost to employees and clients themselves. In this way, HSARx members can support a charity of their choice every time they get their prescriptions!
Learn more about how to get involved with HSARx here and begin donating to Vegas Stronger™ while purchasing your normal prescriptions, at no extra charge!