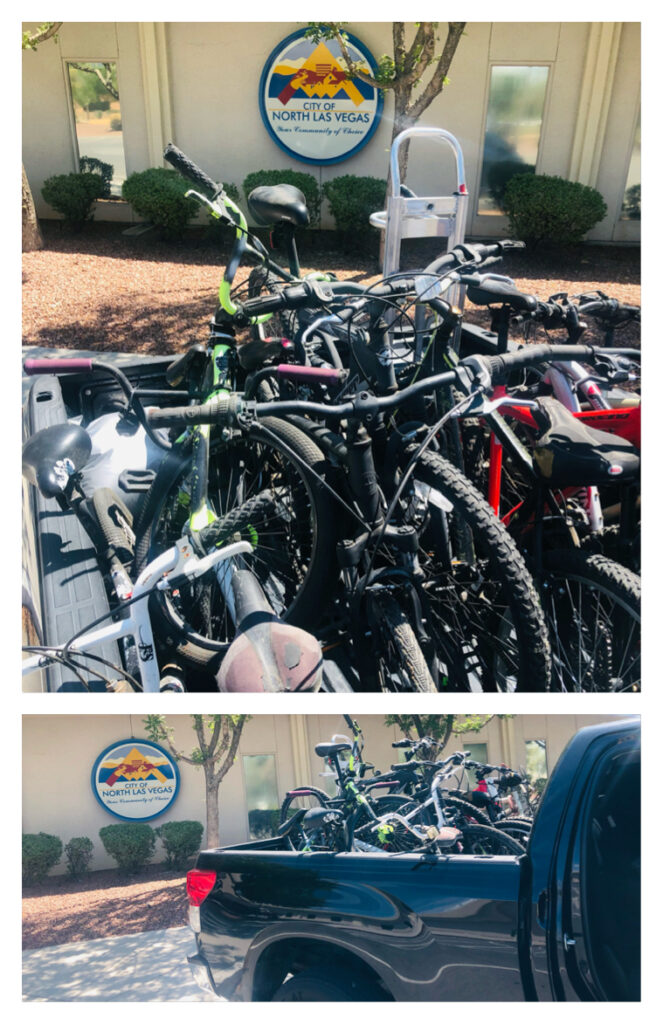 The North Las Vegas Police Department has consistently donated bicycles to our nonprofit organization since its inception last year, and we are beyond grateful for their continued support. Each and every client enrolled in our IOP (Intensive Outpatient Program) is eligible to receive a bike upon graduation, affording all a reliable means of transportation as their recovery and lifestyles continue to thrive.

Vegas Stronger is strategically located in the heart of Las Vegas and is dedicated to treating and combatting homelessness that is caused by untreated drug addiction, alcoholism, and mental health issues.  Our rehab facility offers IOP, support groups, workshops, as well as aftercare and other services.  We are committed to our clients in every aspect of their personal growth, as their recovery journeys evolve.

A report compiled from the U.S. Department of Housing and Urban Development revealed a lack of individual transportation for the homeless population served as a barrier to services, while recent studies show that cycling improves both the physical and mental health of the homeless and offers them new opportunities to flourish.

Jannan Thomas who serves as the Homeless Services Center's Executive Director in Santa Cruz, CA, stated to the Santa Cruz Sentinel, "I think that folks want people that are experiencing homelessness to have the opportunity to become self-sufficient…One of the things required is easy transportation to get to doctor's appointments, job interviews and to work. I think this creates that opportunity."

Access to a reliable means of transportation is critical to our alumni faced with the challenges of homelessness, who must secure housing, employment, medical and social services, among other crucial needs.  Each bike contributed by the North Las Vegas Police Department is restored and tuned up in our Bicycle Ministry, which is located on-site.  

Vegas Stronger is extremely proud of our partnership with the North Las Vegas Police Department, and lives by the mantra, "Our clients are peddling their way to happy destiny."  We are conveniently located near the major shelters here in Sin City and are just a short bike ride away.  To learn more about our services, access: https://vegasstronger.org/get-involved/.