More than 130 Americans die every single day from opioid overdose. It's become an epidemic.
Individuals and families suffer daily as a result of opioid addiction, which includes prescription painkillers, heroin, and fentanyl.
But did you know that the opioid epidemic is not just an individual problem?
Drug addiction in the U.S. is a national crisis. It plays a role in public health, social well-being, and economic stability.
Why is opioid addiction a national issue?
According to the Centers for Disease Control and Prevention, the opioid crisis costs the U.S. nearly $78.5 billion per year. These costs include healthcare, lost productivity, addiction treatment, and criminal justice involvement.
The increase in opioid abuse has also led to an increase in problems at birth. When mothers misuse opioids while pregnant, babies can have long and short term health issues. Because of injection drug use, we have also seen a spread of infectious diseases like HIV and hepatitis C .
How did the opioid crisis arise in the U.S.?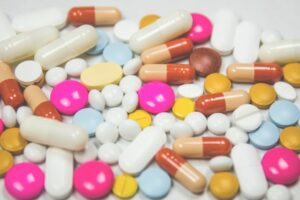 In 2017, over 47,000 people died from an opioid overdose. Nearly 1.7 million continued to suffer the consequences of substance abuse.
According to the National Institute on Drug Abuse (NIH), around 21 - 29 percent of patients who are prescribed opioids for chronic pain abuse them.
Between 8 and 12 percent of those patients go on to develop a drug use disorder.
Nearly 4-6 percent of those with an opioid disorder end up using heroin.
80% of those who use heroin began with prescription opioids.
Overdoses from opioids increased by 30 percent from July 2017 to September 2017 in 45 states.
So what are we doing about the opioid crisis?
The U.S. Department of Health and Human Services (HHS) is dedicated to fighting the opioid crisis. There are 5 main areas of focus.
Working to increase access to treatments for recovery.
Encouraging the use of drugs that reduce overdoses.
Educating the public about the dangers and realities of the epidemic.
Offering support for groundbreaking research on pain and addiction.
Fighting for better pain management options.
The National Institutes of Health (NIH) also conducts research on opioid treatments. They are working to find effective ways to prevent drug abuse, treat addictions, and relieve pain.
At last year's National Rx Drug Abuse and Heroin Summit, the director of the NIH, Dr. Francis S. Collins, announced a new plan. HEAL (Helping to End Addiction Long-Term), is "an aggressive, trans-agency effort to speed scientific solutions to stem the national opioid public health crisis."
If you want to learn more about the U.S. addiction crisis, take a look at this special report.